I have such a crush on "La Petite Shade" from the french "The Voice"….

Tonight are the first battles I'll don't know if she'll appear or if she'll appear next week… but I hope she will stay… Well maybe I'll know this evening maybe next week

but she is so cute:

just wow

I have others "coups de cœur" but it's on her i really have a crush… well maybe a bit on Elodie too look how cute she is:

oh dear I will be sad anyway cuz i have a lot of "coups de cœur" (don't know the english word) (especially in Jenifer's and Mika's teams )

ok so she wasn't there that Saturday.

and apparently there is probly going to be at least three and VERY probably 4 saturdays of battles (well three mores after last week.

so I really don't know if she will be there tonight or next Saturday, or the Saturday after that

but I REALLY REALLY HOPE SHE WON'T BE IN THE THREE PEOPLE BATTLE! (the one with three peopkle competing at once and only one winner unless someone is saved by another coach) PLEASE PLEASE PLEASE !

oh apparently Elodie will battle this evening I hope she stays but I don't want Najwa to go HELP!

also about last time I was Really sad about the departure of

Ayelya:

and Sarah Jad:

but happy that

Claudia Costa:

Melissa Bon:

(I love her voice)

Manon:

and Wesley:

are here to stay

Ok la petite Shade wasn't there last week, and chances are she won't be here tonight either, but I will not be here this evening until a bit less, so I'll have to record and probly won't be able to view everything this evening… at least she wasn't in the three people battle….  i'm affraid my mum could be right and she could be put against Margie and that's a shame cuz I love Margie too

and I'm afraid there won't be any place left for another coach to save the one who lose that battle.

from last time I'm a bit sad of especially the departures of Najwa:

why did she have to be put against Elodie, now I can't say if I'm happy or unhappy about the end of this battle

also a bit sad about the departure of (well about all departures anyway but mostly) Leïla and Florence Coste

they both seemed quite nice

I will also miss Aline Lahoud but if I remember well she already has a career in Liban

but I'm really happy that

ELODIE IS HERE TO STAY (see pisture in my original post)

also SPLEEN:

LOOK AT THAT HE WAS IN A FRICKIN TOTORO SUIT THAT GUY IS AWESOME

also Stacey King:

and Melissa Maugran, I liked her singing:

and Teiva:

and elliott seems nice too:

it was a bit sad seeing him against two as nice people at least their battle ws precious sad that it was a battle and two had to go :(

Sooooo last time indeed La petite Shade wasn't there… but apparently she won't be put against Margie both with be in battle with one of the remaining two guys…. it's partly a good new, they could both win… also there is still Mika  who can save one of the persons who loose this night…. if one of these two loose, he may save her…..

but…. the bad new is they may both loose, and Mika may choose to save someone from another team … and :(

aaaaaaaaaaaah i'm affraid now

ok so last time I was sad about the departure of

Carine:

and Sophie Delmas:

and I am especially disturbed that it seems that 40+ women never seems to stay in the Voice (last year was worse they never passed the auditions and I was beggining to wonder if this was a bit more on purpose than they were admitting it  :( ) well Stacey King is still here, let's hope she stays !

I was also sad about the departure of

Akram Sedkaoui

Kissamilé:

and youness:

but I am happy that:

Juliette Moraine:

Gwendal Marimoutou:

Emma Shaka:

Amir:

Fabienne Della-Monica:

(really really happy about her)

Kendji Girac:

and Jacynthe Véronneau:

are here to stay

(I remember during the battle between Emma and Jacynthe: if Mika saves whoever loose this battle and then saves La Petite Shade or Margie next time if one of them loose her battle… then I'll kiss him, praise him and sing his name… so he did save Jacynthe… so now we will see what happens today

So I was very sad and almost angry about the departure of

Margie

NOOOOOOOOOOOOOOO

I was also sad for Santo Barracato

and Mamido

and Rich Ly

and Quentin

but i'm happy that Tifayne

and Natacha Andreani

and Cloé

are still here

and of course I'm so happy that LA PETITE SHADE IS STILL THERE YEEEEES !

but

i'm a bit affraid

because before the live things there is the "epreuve ultime tonight annnnnd

La Petite Shade will be there and she will face Manon and Elliott, only two of them will remain I'm affraid

oh to end on a positive note now

it's amazing I just discovered that three of the singers have a link with Geneva and it's three of those I like a lot !!!!!

Alexia Rabé

who do/study theology at Geneva University

Stacey King

who apparently live here

and Melissa Bon

who apparently live half here and half in Paris

I love Melissa's voice so much

Ok let's recapitulate the épteuve Ultime

Garou's team:

I'm kind of pissed at Garou's choices He let go three of my favourites:

Melissa Maugran

Gwendal Marimoutou

and especially

Melissa Bon

I'M GOING TO MISS YOU SO MUCH I LOVE YOUR VOICE!

ok there is still Typhaine

and

Natacha Andreani !!!!

SHE IS SO CUTE AND AWESOME
I really hope they both stay

if not i will loose interest in this team

Jenifer's team:

I agreed a lot more with her choices

I was a bit sad of Elliott's departure

But I was happy that so happy than

Manon

and Amir

and especially Emma Shaka

AND VERY ESPECIALLY LA PETITE SHADE ARE STILL HERE

Mika's team

both happy with some things and very dissapointed

disapppointed because three of my faves are gone like wtf ??????

NOOOOOO

Not Fabienne Della Moniqua !!!!!

Not Jacynthe Veronneau:

Not Cloe

I WILL MISS YOU THREE SO MUCH YOU WERE REALLY PART OF MY FAVOURITES

But I'm happy about Elodie

HOW IS IT EVEN POSSIBLE TO BE THAT CUTE ??????

and Kendji !!

and I have to admit that  Marina D'Amico and Caroline Savoie are great too

Also I love Spleen, even though I think he is so unique that if he stoped the adventure now, he would already have gained an inportant new audience

I'll do Pagny's team later i Have to go

Ok Pagny team:

I agree with a lot but not everything

I'm really sad about the departure of Teiva

and espacially Alexia Rabé

And I have to say I'm really sorry i didn't mention I was happy when she stayed after the battle, because I was so here is another picture

but now she's gone so i'm sad

but I'm Happy that wesley is still here

and that Stacey King is still here especially now that I know she's from Geneva

And Juliette Moraine

 And Claudia Costa so happpy about them
Ok, let's continue this with the two first lives
1st Live:
I was very impressed and Happy and surprised in a good  way that the choices made this day were ALMOST EXACTLY THE CHOICES I WOULD HAVE MADE !!!!
WOW THIS ALMOST NEVER HAPPEN!
OK BUT LET'S SEE
for Garou:
I'm very happy that Garou chose to keep Natacha Andreani
seriously she is awesome look at her:
i love her wow… I really hope she will stay longer
also the audience chose to keep Igit
i'm ok with that he is quite entertaining
about Jenifer's team:
I was a bit sad for Ginie Line, but since she already has an album I guess all the people who loved her in the voice can buy it no ? (it didn't sell well, but now that she was in the show it may begin to sell i guess)
so I was happy that the audience kept Amir and Manon
about Mika's team
You know that I love Spleen WOW THIS GUY IS AMAZING AND FUNNY AND ORIGINAL
AND THAT DAY HE WAS ESPECIALLY GREAT!!! you see the first time he was on the Voice for his audition: All the coach had chosed him !!!! so he had to chose which coach's team he would join…well he ASKED A LTTLE GIRL IN THE AUDIENCE WHICH COACH HE SHOULD JOIN AND SHE CHOSE MIKA FOR HIM !!!!
I'M TALKING ABOUT THAT HERE FOR A REASON, BECAUSE THAT EXACT LITTLE GIRL WAS INCLUDED IN THIS FIRST LIVE OF SPLEEN, SHE  WAS DANCING AT THE BEGINNING AND WITH HIM
HOW AWESOME IS THAT ?????
LOOK AT THEM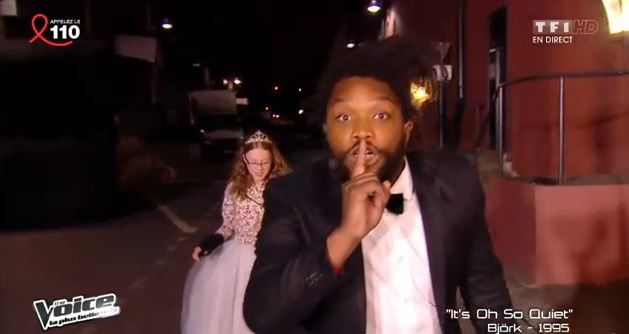 YOU SEE ???? AND THE OTHER AWESOME THING IS
IF HE BEGAN THE SONG IN THE BACKROOM IT'S BECAUSE HE HAD AN AWESOME IDEA FOR THE SHOW, HE DECIDED TO INCLUDE THE PEOPLE WHO WORK IN THE BACKROOM OF THE SHOW, TO REMIND THE AUDIENCE THAT WITHOUT THEIR WORK THERE WOULD NEVER BE SUCH A SHOW !!!!!
the only reason I'm not upset he left, is because he has such a personality that PEOPLE WON'T FORGET HIM  and in the voice i don't care as much about who will win as i care about who will be seen and followed by enthusiasts
also that was a perfect final in the show for him
So I'm very happy that the amazing Kendji and Caroline Savoie are still there
and finally about Florent Pagny's team:
Bruno Moreno seemed like a very nice and cool person so I'm a bit sad
But still, I agree so much with the choices of Florent Pagny and the audience :
First Pagny saved Juliette Moraine:
she keeps being each time so awesome and powerful she is amazing i think she really deserves to stay And what make me keep my faith on the choices of the audience is that they chose: Stacey King: she always deserves her place here but she did even more this time I thing
SHE WAS SO EXCEPTIONAL AND MOVING !!!!
(also it reassured me that the audience doesn't almost always vote for young men.. and that they can see how amazing someone as her is!)
ok I talk about the second live later, I have to go now !!!!